Noticeboard
This is a forum for those who wish to acquire, sell or exchange Leyland-related items.
It may also be used by those who might wish to discuss or enquire about Leyland related matters.
The insertion of adverts is a free service to Society members.

The Society accepts no responsibility for the accuracy of any advert on this page, nor for the condition of any articles bought as a result.

They are published as received and will remain on the site until there is no further requirement for them.

In the first instance, please submit requests for inclusion on this page to the Leyland Society
If an item is published and then the request is satisfied (sold, no longer wanted, etc.) please remember to contact the Webmaster to have the item removed!
All items that are over one year old will be automatically removed.
---
Assistance for Servo required
Information required regarding the adjustment and servicing of the pair of frame-mounted Clayton Dewandre brake slave servos fitted to a Leyland Titan TD2 bus. The bus has a three-servo setup comprising a master and two slaves. Each slave is mounted to the chassis frame and operates a front brake via ribbons using vacuum, rather than being the later wheel-mounted servo type. The brass identification plate states the type as T7 and the Series as 2019.
If anyone is able to help with info please contact Steve Jenkinson on 07800 121570 or steven@LBC2.com.
---
Leyland wants a good home
Old Leyland with Rolls Royce engine, has a homemade type sleeper cab and has been converted to a recovery unit with ballast.
Open to offers
Contact Rich Nicholson 07894 624715
[Inserted 30 December 2017]
---
South East Bus Festival 2018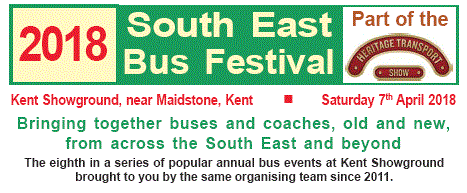 Click on the image for more details
[Inserted 05 November 2017] [Updated 20 November 2017]
---
What do you want / Need
Following a recent committee meeting it was decided to create reproduction copies of sections of Leyland manuals but because of the huge range it is difficult to determine in what priority these should be made and so we thought it would be a good idea to ask the owners what they wanted.
This is your opportunity to influence which workshop documents we digitise and in what priority - subject of course to our having access to a good quality original in the first place. The duplicates could be made available on CDr/w or for an additional fee a memory clip / dongle depending on size of file.
Please send your requirements by email to theleylandsocietyltd@gmail.com
[Inserted 07 October 2017]
---
Rubber Mounting Bushes – Leyland 600 Engine for PD2s, PS2s (and maybe PD3s)
An initiative we (Sydney Bus Museum) are urgently pursuing is the production of rubber mounting bushes for the Leyland 600 engine in PD2s, PS2s and maybe PD3s, I'm not certain.
We have 6 such buses, one being re-engined right now and it needs 16 such bushes per bus (4 mounting struts, two ends each, two bushes per end). Each end takes 2 dissimilar size bushes.
We've had a quote of about $1600 for the mould tooling and a price of about $10 each for the rubber itself.
The number we order is dependent on what interest there is from elsewhere in the world in taking some bushes for future use. We would only do one production run, as the price drops greatly for large quantities.
I wonder could you try to establish what demand there might be from your owners?
We suggest a putative price of about $16 per bush plus 10% GST and shipping.
I have found a decent price for shipping from UPS who will take 20 kg from Aust to UK, door to door for $176.
The per unit cost could drop if we were to order a few hundred bushes. Our buses alone will eventually need total 128 pieces, as the rubbers now are nearing 30 or 40 years of age, and are collapsing.
Contact David @ Sydney Bus Museum - shop@sydneybusmuseum.com
[Inserted 16 August 2017] [Updated 09 September 2017]
I am pleased to say that the first samples of the motor mount bushes have been produced.
Personally I'm pleased with the quality. Perfect dimensions, thanks to the toolmaker's allowance for shrinkage in the mould, nice clean finish and a very good firm feel. Shore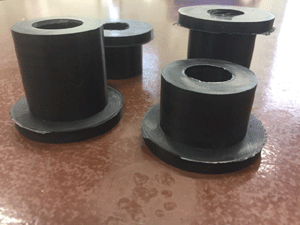 Hardness of 70A has been held.
Very professional job all told.
I'll keep you posted on price.
The photos show them straight from the mould without any trimming of flash.
Price negotiations are going on with the moulder and will depend on order size, and of course we will press the impoverished charity line.
I'll keep you posted.
Please advise how many sets you might take, given an acceptable price.
Armed with expressions of interest we can decide on as large an order as possible to keep price down.
[Updated 17 October 2017]
---
Leyland Badger Truck (Australia) - Parts Required
Back in February we posted that this 1934 Badger TA was going to auction in Australia. It was bought by John Rethus of Westvic Spares 1 Middleton Ave, Nhill VIC 3418, Australia. He is chasing a gearbox, bonnet side panels and spare wheel rim plus parts and workshop manuals.
Any help or information please message John through Westvic Spares on Facebook or mailto:john@westvicspares.com.au
[Inserted 15 August 2017]
---
Working Scottish Trucks.
Working Scottish Trucks is a photographic book bringing together 262 images of commercial vehicles spotted across some of the most scenic parts of Scotland. The beautiful landscapes offer a fantastic backdrop to the large range of haulage companies based in this rural, rugged and often difficult area. With just one picture per page, this book reproduces Ian Lawson's perfectly captured shots to maximum effect.
Full publication details can be found at Publisher Website
Leyland Society members at the discounted price of £15.95 (20% off)
Contact: victoria.delahunty@5mpublishing.com
[Inserted 10 July 2017]
---
Leyland Cub owners.
Engineering firm F J Payne & Son Ltd. Oakfield Industrial Estate, Eynsham, Witney, Oxfordshire. OX29 4AW. Tel: 01865 882299 have been commissioned to refurbish a Leyland Cub engine, believed to be an E113 or E117 Light Six and are offering Cub owners the opportunity to join them in getting sets of crankshaft bearings made. Obviously the more sets commissioned the more cost effective it will become.
In the first instance speak to Mr Tim Payne.
[Inserted 17 May 2017]
---
Fuel Tank strap rubber
A Society member has had a quantity of fuel tank strap rubber manufactured to the attached specification. (publish drawing) Sold in nominal 1 meter lengths, 2 lengths for £10.00 inc p&p in UK
For bespoke lengths and quantities please enquire on line - theleylandsocietyltd@gmail.com
[Inserted 24 March 2017]
---
Leyland Axle
The price for it is £150-00, cash on collection. I can remove it from the old trailer if required or the purchaser can have the lot.

It is located near Sudbury in Suffolk.

My details are

Colin Brown Email cjb2456@hotmail.co.uk Mobile 07971780294
[Inserted 18 February 2017]
---
Leyland Badger Truck (Australia) - For sale by Auction
Leyland Badger truck 1934 TA series driveable. It was driven into the shed about 8 years ago and has been run sporadically since, last time about 3 years ago. I will get her going for the auction.
The water pump leaks ,the transmission is pretty noisy, and the engine needs a good tune, possibly a carburettor rebuild, but otherwise seems OK.
Other items included stationary engines, engines, vintage cylinder mowers, etc,
click here for full list
[Inserted 07 February 2017]
---
Tilling Moquette
Reproduced 1950`s / 60`s tilling moquette, limited amount, selling fast, £600 per roll sold in full rolls only (20 metres by 1.5 meters (30sq.m), Located in Shipley West Yorkshire, Contact Keith Renshaw - renshaw221@gmail.com 01274 592702
[Inserted 21 January 2017]
---
Transport Books
I am a Leyland Society member, and also an author with a series of books which includes the Thames Valley, Newbury & District and South Midland companies, all big users of Leyland buses and coaches.
If you could add a link with that message it would be appreciated. The site is www.paullaceytransportbooks.co.uk
[Inserted 10 January 2017]